FEATURES
Two piece and three piece bolted construction and manufactured in forged construction.
Working pressure up to 10,000 Psig (690 Bar).
Every valve is subject to a pressure test in accordance with the standard API 598 or BS 6755 part 1.
Pressure rating as per ASME B16.34 Class 150 thru 2500.
Anti-Static device is set between the stem and ball.
Fire tested as per BS6755 part 2/API 607.
Wetted components of sour gas service valve are selected as per requirements of NACE MR01-75/ISO 15156.
Flange construction as per the requirement of ASME B16.5. Flange connections comply with EN 1092-1 are also available upon request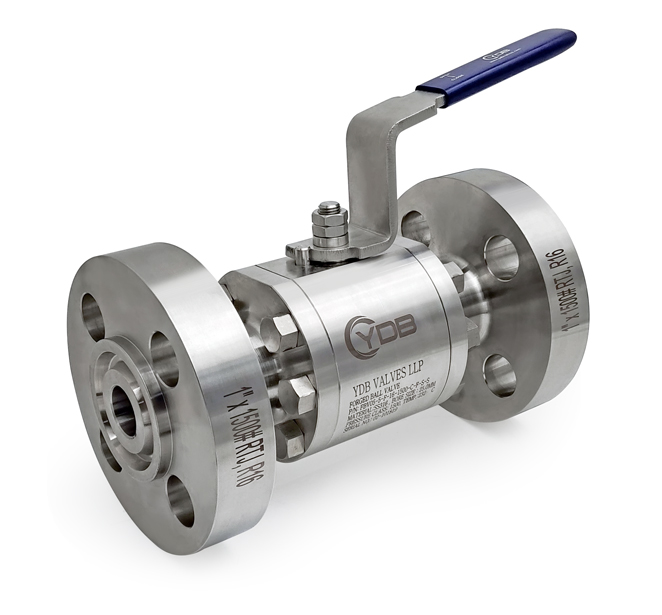 Ordering Information
BV05 – Ball Valve Series 05
A. Valve Series
05 – Full Bore
10 – Reduce Bore
B. Bore Size
| | | | |
| --- | --- | --- | --- |
| Designator | Size | Designator | Size |
| 1 | 9.5 mm (3/8") | 6 | 32 mm (1- ¼") |
| 2 | 11 mm (7/16) | 7 | 38 mm (1- ½") |
| 3 | 14 mm (1/2") | 8 | 42 mm (1- 11/16") |
| 4 | 19 mm (3/4") | 9 | 50 mm (2") |
| 5 | 25 mm (1") | | |
C. Seats, Body Seals, Stem seal
D – PEEK, Graphite, PTFE
E – PEEK, PTFE, PTFE
F – PEEK, VITON, PTFE
G - PTFE, VITON, PTFE
D. Process Connection Flange Size
| | |
| --- | --- |
| Designator | Size |
| 8 | 1/2 |
| 12 | 3/4 |
| 16 | 1 |
| 24 | 1-1/2 |
| 32 | 2 |
| 48 | 3 |
E. ASME Class Rating
Flange Class
Designator
Class Rating
150
150
300
300
600
600
900
900
1500
1500
2500
2500
F. Process Inlet Connection Type
A – Flange, RF Smooth
B – Flange, Concentric Serrated
C – Flange, RTJ
G. Outlet Connection
F – Flange (Same as Process)
H. Material
S – SS316
C – Carbon Steel
D – Duplex
M – Monel
I – Inconel
I. Ball Material
S – SS316
C – Carbon Steel
D – Duplex
M – Monel
I – Inconel
Forged Ball Valves
At YDB Valves, we manufacture each forged ball valve to offer extend service life, environmental protection and safe operation. That's why customers around the world prefer our forged ball valve.
What Makes YDB Forged Ball Valve Great?
Forged ball valve are designed with excellent yield strength, mechanical properties, reliability, toughness and ductility and have premium features that deliver longevity and performance in the most critical applications. From toxic gases to highly corrosive fluids, these valves have what it takes to handle the extreme. All ball valves are designed in accordance with ASME B16.34, BS 5351, ISO 17292 and API 6D and are tested with API 598, ISO 5208. YDB forged ball valves have fire safe features which match API 607, API 6fA, ISO 10497.
For the Best Quality, Service and Value in Forged Ball Valve, contact YDB Valves!
Forged Ball Valve Catalogue:
We offer dozens of configurations in forged ball valve manufactured according to the international performance and design standards.
Forged Flange Ball Valves
Forged flange ball valves can be used in manual control/throttling applications. The various classes of forged flange ball valves at YDB Valves make the usage of flange ball valves very diverse. They can be used for various control applications such as chemical, oil, water and power. Forged flange ball valves design meets all the requirements of ASME B16.34.
Forged flange ball valves of YDB Vales are fire safe and the design permits electrical continuity. We offer the following forged flange ball valves.
Heavy Duty Flange Ball Valves
Class 150 Flange Ball Valves
Class 300 Flange Ball Valves
Class 600 Flange Ball Valves
Class 900 Flange Ball Valves
Class 1500 Flange Ball Valves
Class 2500 Flange Ball Valves
Contact us for more details and specifications of each valve.
Forged Trunnion Ball Valves
Forged trunnionball valves come with an additional mechanical anchoring of the ball at the bottom and the top which makes them suitable for large high pressure applications.
YDB Valves produces forged trunnion ball valves in both two and three piece forged. The materials that we offer include stainless steel and alloy and these valves are designed to handle severe applications.
Forged trunnion ball valves of YDB Vales are fire safe and the design allows for electrical continuity. Our forged trunnion ball valves include:
2 piece Flange Trunnion Ball Valves
3 Piece Flange Trunnion Ball Valves
Contact us for more details and specifications of each Valve.