High Pressure Needle Valves
FEATURES
High tensile SS316 Bar Stock Bodies.
17-4 PH Hardened stem with anti-blow out design.
Packing below stem thread to prevents fluid from contacting threads.
All Valves are tested at bubble tight leakage at seat and packing.
Positive gland lock device.
Gland and collars for tubing are supplied with each valves..
Packing set consist of Peek, PTFE and Viton Oring.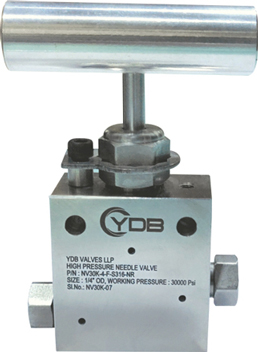 OPERATING PARAMETERS
Pressure Rating
Upto 10000 PSI
Temperature Rating
PTFE: -65°F to 450°F ( -50°C to 232°C)
Graphite: -65°F to 842°F ( -50°C to 450°C)
End Connection Sizes
1/4" ODT to 1" ODT
High Pressure Needle Valves
YDB Valves is the name of a trust in manufacturing high-pressure needle valves. Our needle valves and ever are very accurate and serve a wide range of applications. Our products undergo stringent quality checks before they are delivered to the client.
FAQs
The high-pressure pressure valve operates at pressures above 500 PSI.
VDHT solenoid valve is used in high-pressure applications.